Harmen Liemburg (NL 1966) begon zijn carrière als kartograaf. Op zoek naar een manier om zijn grafische uitdrukkingsmogelijkheden te vergroten, ging hij naar de Gerrit Rietveld Academie. Daar werd hij onderdeel van een nieuwe generatie ontwerpers, één die nauw verbonden is met de wereld van beeldende kunst, musea en onderwijs.
Liemburg is geobsedeerd door zeefdruk, en gebruikt het medium om onverwachte resultaten te bereiken. In zijn werk benadrukt hij het verhalende aspect en de plotselinge schoonheid van alledaagse beelden zoals logos en verpakkingen, die door middel van collagetechnieken met elkaar worden verweven.
Zijn projecten richten zich vooral op de produktie van drukwerk, dat hij onder andere gebruikt om tentoonstellingsruimten te transformeren. In zijn lezingen en workshops probeert hij studenten ervan te overtuigen te beginnen met het uitschakelen van hun computers, maar laat tegelijkertijd zien hoe digitaal gereedschap kan aansluiten op analoge drukprocessen. Liemburg is naast grafisch ontwerper en kunstenaar ook design journalist, met name voor het Nederlandse tijdschrift Items.
Harmen Liemburg (NL 1966) started his career as a cartographer. To keep his appetite for graphic representation alive, he sought a larger menu of expression. He went to the Gerrit Rietveld academy and became a member of a new breed of designers, one that is closely linked to the world of art, education and museums.
Liemburg is obsessed with screen printing, and uses the medium to create unexpected results. His style emphasizes the narrative aspect of images and the occasional beauty of everyday vernacular like logos and packaging design, that are woven together through collage techniques.
His projects are primarily linked to the transformation of exhibition spaces through the use of printed matter. In his lectures and workshops he works to convince students to start working by turning off their computers, but simultaneously shows how to digital tools can be linked to analogue printing processes. Besides being a graphic designer and graphic artist, he's also a design journalist, mainly for the Dutch magazine Items.
Interview in Japan op Pingmag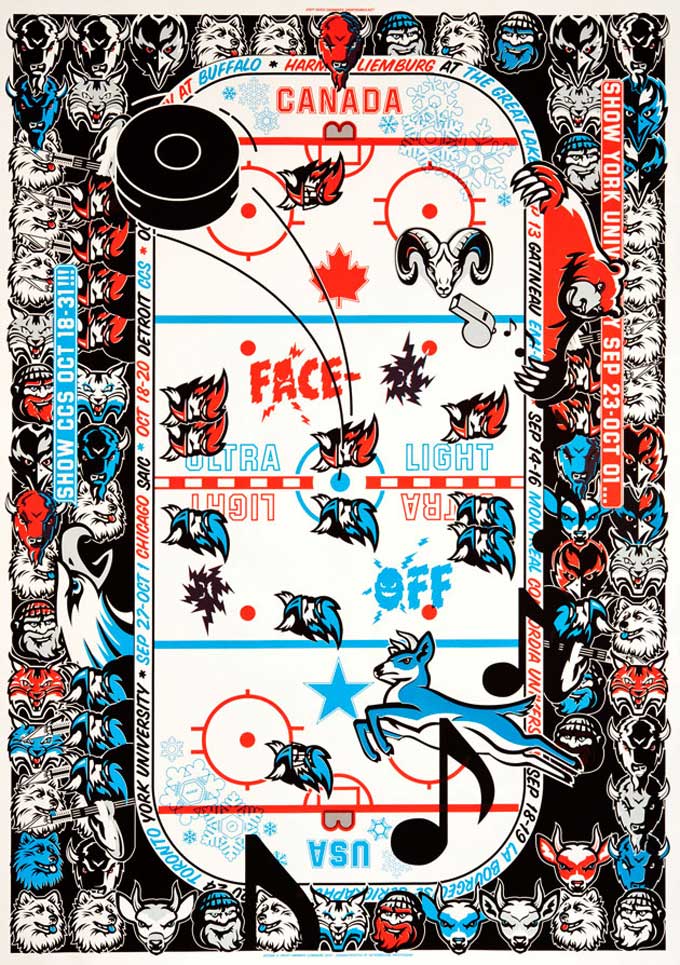 GOUVERNE
VRIJDAG 4 NOV
20:30 > 22.00 u