Teun Hocks, born in Leiden ,lives and works in Breukelen, the Netherlands, and teaches at the  Design Academy in Eindhoven. An artist who crosses genres, Hocks studied at the Academie St. Joost, in the town of Breda in his native Holland.
Yet after art school, he made photo pieces and drawings , showed Super 8 films (beginning in 1977) and created performances, until he gave that up in 1985.
Hocks photographs are cinematic in their process and mood. First, he constructs scenes in his studio and takes a black and white photograph. He then hand colors the photographs with transparent oil paint, taking precise care in the coloring in order to create specific emotions and atmosphere. The accumulation of these elements makes the environments seem like surreal portals. His films and drawings additionally reveal and delve into these worlds and also give greater insight to his storytelling and creative process.
Performing as the everyman in his photographs, Hocks invents scenes that are confrontations with failure, puzzlement and wonder. The staged scenes show the man being thwarted, trapped, and frustrated with seemingly no solution. The mundane becomes heroic, the trivial task becomes a Sisyphean ordeal. Through it all, Hocks, acting as a stand-in for the viewer, endures with a Buster Keaton-inspired performance.
In addition to his photographs and drawings, he also makes video.
Teun Hocks has exhibited internationally for over twenty years. There are many publications of his work including the "Teun Hocks" monograph published through Aperture in 2006 with an essay by Janet Koplos and also "The Late Hour" a monograph published by De Geus with an essay by Donald Kuspit published in 1999. His work is included in museums and private collections and has been reproduced in major publications worldwide. His work, which has been exhibited in numerous international solo and group exhibitions, is represented by Torch Gallery , Amstedam , PPOW, New York.. Galerie Patricia Dorfmann , Paris, Fahey/Klein Gallery ,Los Angeles and PaciArte contemporary , Brescia, Italy.
Interview met Teun Hocks in de Groene Amsterdammer www.groene.nl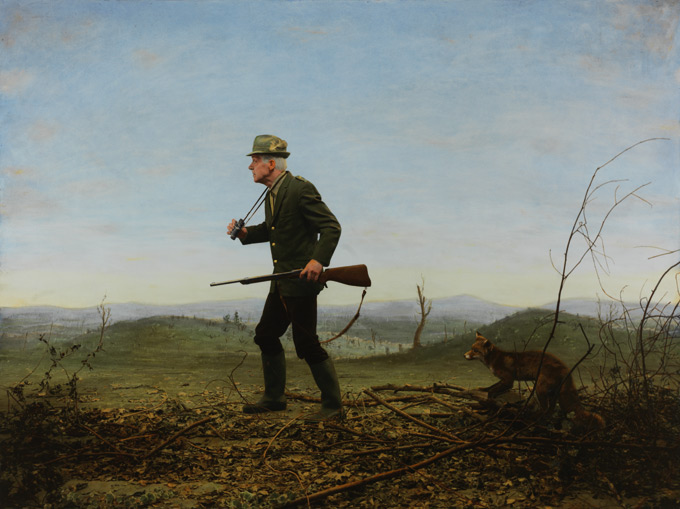 240. Untitled / Zonder titel, 2010  Oil on toned gelatin silverprint / Olieverf op getinte zwart-witfoto 129 x 169 cm.  3 versions.
©Teun Hocks , courtesy Torch Gallery Amsterdam , Netherlands P.P.O.W.Gallery  New York , U.S,A. , Galerie Patricia Dorfmann Paris , France , PaciArte Contemporary, Brescia, Italy. Fahey/Klein Gallery , Los Angeles  , U.S.A.
GOUVERNE
ZATERDAG 5 NOV
15.00 > 16.15 u